Energy Truffles

- The presentation on these is great, and even comes with a little card to identify each flavor.
These definitely aren't your typical truffle--they deliver lots of good stuff like hempseeds, chia seeds, nuts, and other whole foods. The inside is kind of like an energy bar (thus the name, I imagine!) with differently flavored chopped nut fillings. My favorite flavors were probably the
Orange
,
Salted Fudge
, and
Cinnamon
. The
Coconut
was also good (it had a nice buttery coconut flavor), and the
Cayenne
was surprisingly fun (not too spicy; just right). All truffles are vegan, gluten-free, and made with 100% organic or wild crafted ingredients.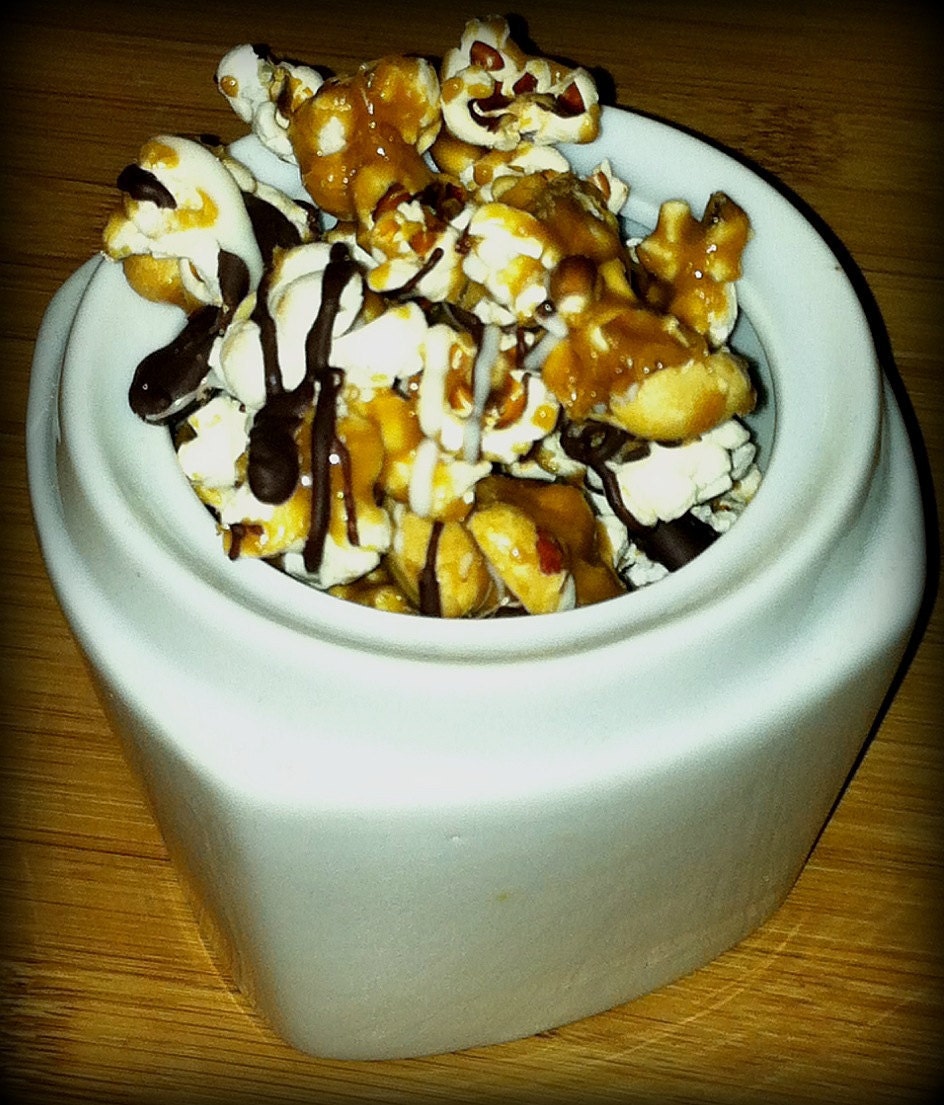 Pinkies Vegan Sweets
- This Etsy shop sent me quite a few things to try. My favorite of the bunch was the
Vegan Chocolate Caramel Corn
. It was amazing! Imagine
really good caramel corn drizzled with white and semisweet chocolate, and sprinkled with peanuts and almonds...and that's what you get! Sweet, salty, crunchy…mmm! I found the
Vegan Snickerdoodles
to be a little doughy, but if you like super soft cookies you will love these. They tasted incredibly "buttery"...I wish I knew the baker's secret!
The
Vegan Peanut Butter Fudge
was
sweet, peanut buttery, and kind of addictive. Plus, it's made with all organic ingredients! My family loved the
Vegan Whoopie Pies
. Their favorites were the the mint one and the chocolate one. My mom said she would give the
Vegan Peanut Butter Chocolate Chip Bars
a ten.
She even asked me, "Are you sure these are vegan?" My little sister replied, "Mom, some vegan stuff is GOOD." :)
Spirulina Energy Bites
Green Tara Spirulina - Spirulina is incredibly healthy and a wonderful food to add to your diet. The
Spirulina Energy Bites-- made of
organic bananas, organic sesame seeds, organic
coconut
, organic dates, and spirulina--
make it easy to get a boost of green power on the go. These are bite-sized and mostly taste like banana and coconut with a little crunch from the sesame. Green Tara also makes Spirulina Crunchies which, as the name implies, are crunchy little spirulina pieces. These would be great for sprinkling on cereal, yogurt, or salads, or blending into smoothies. All products are n
on-GMO, vegan, raw, and use no preservatives. (P.S. I'm a little confused by the packaging; the image is kind of strange.)
Cusinart Handheld Blender

- I reviewed this handy device for Wayfair. I thought it would be good for blending soups, salad dressings, and other small jobs that don't require getting the big blender or food processor out. I love how easy it is to use and to clean, and that it comes apart for easy storage. However, I found that it was very tippy when using the plastic blending jar. The cord also seemed to really get in the way. As for performance, just as I hoped, it works great for dressings, soups, and even some smoothies.
The chopping attachment is also very handy.
Kettle Cuisine Soups

- Not all of Kettle Cuisine's soups are vegan, but a few of them are. I recently tried two of the vegan flavors-- the
Roasted Vegetable Soup
and the
Tomato Soup with Garden Vegetables
. Both soups were delicious and so handy to have in a pinch. They are rather low in protein, though, and the first one is also a bit higher in oil then I would use if making at home. I added some nutrition by bulking them up a bit with extra beans, greens, and veggies. This made for a very satisfying bowl of soup and also stretched them a bit more. (I didn't try the other vegan flavor,
the
Three Bean Chili
, but I imagine that has more protein than the other two.) Over all, I would definitely recommend these for a healthy meal in a pinch. I know that I was sure glad to have them waiting for me in my freezer.
Thank you to all the companies that sent me products to review!
Disclaimer: All products mentioned in this post were sent to me free of charge for the purpose of reviewing on this blog. I received no monetary compensation.